French Dressing (1963)
Kenneth Russell's first film is a frothy comedy set in the imaginary English seaside resort town of Gormleigh. An upstart deck chair attendant named Jim ( James Booth ) proposes to give the dull town a sexy new image by organizing some publicity stunts with his favorite pin-up, the French movie star Françoise Fayol (played with perfect petulance and vanity by the astonishingly beautiful Marissa Mell). Assisting Jim in this plan are his bumbling boss Henry (Roy Kinnear) and a cute but tomboyish co-worker named Judy (Alita Naughton) who also freelances for the local newspaper. Jim and Judy carry on a bantering flirtation that looks as if it could blossom into true love. His ongoing efforts to seduce her are unsuccessful but he does manipulate her into writing a newspaper article about his scheme. This leads to a meeting with the town's lecherous mayor, who takes one look at Fayol's picture and sends Jim and Henry to France to retrieve her.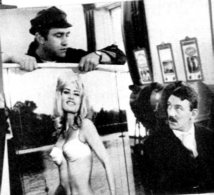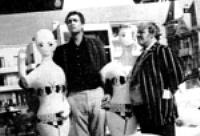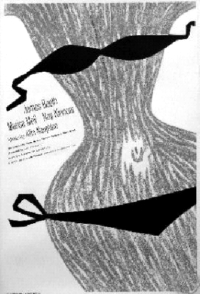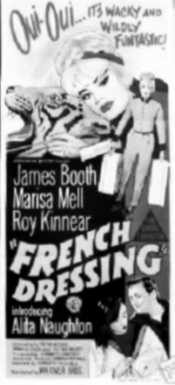 Once in France, Jim and Henry locate Fayol quite by accident during a publicity stunt engineered by her manager-boyfriend, who has made up a lot of life-sized inflatable Françoise dummies and scattered them around public places. Furious at this cheapening of her image, Françoise enlists Jim and Henry's help in burning the dummies. When her manager-boyfriend arrives and protests, a quarrel ensues, and Françoise departs for England with Jim and Henry.
Françoise gets a warm welcome in Gormleigh. The photo sessions and film festival organized around her draw big crowds. Jim ends up spending more and more time with her and neglecting Judy, who begins to think about leaving Gormleigh. But nearly constant rain and various mishaps make the festival a bad experience for Fayol. When her manager/boyfriend phones and asks her to come home to act in a movie, she departs immediately.
Jim had been counting on Fayol to open a nude beach that very day. He despairs of finding a substitute. But unbeknownst to Jim, Judy resolves to save the situation by disguising herself as Fayol. Wearing a blonde wig and sunglasses, she marches unhappily into the sea under a torrential downpour. Jim recognizes her and runs into the water fully clothed to cover her with his jacket. "I ought to belt you for taking off your clothes in front of all these people," he scolds, before telling the photographers to get lost. The film ends with Jim, Judy, and Henry cheerfully walking towards the camera, with the rainy fiasco receding into the distance behind them.
Filmed in black and white, with stylized romping scenes, speeded-up action , and other visual tricks, French Dressing looks and feels a bit like A Hard Day's Night. There are some lovely lyrical moments, such as the scene of Judy typing on the beach , and there's a lot of slapstick (that generally fails as humor, unfortunately).
Beneath its intentional silliness, French Dressing tells a coming-of-age story with a sentimental heart. It sets Jim and Judy up to fall in love and hints that they have the power to bring out the best in each other: Jim can make a woman of Judy , who can give Jim's life some direction. Then the film shows how the lovers' immaturity keeps them apart. Judy is too inhibited to sleep with Jim, who is too obsessed with movie stars to treat her right. But the final scene, at the nude beach, finds the lovers putting each other's needs first. Judy "becomes" Jim's fantasy-woman to save him from disgrace, while Jim reaffirms Judy's innocence and willingly forfeits his pipe dream.
James Booth wears a little Bob Dylan/John Lennon cap in his deck chair attendant scenes. The rest of the time he wears a casual suit and tie. He looks great and has one of his sexiest onscreen moments when he pulls Judy down onto his supine body and gropes her all over before she struggles free.
Text copyright Diana Blackwell, 2002.
Appendices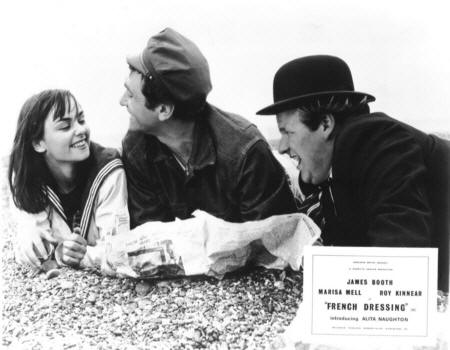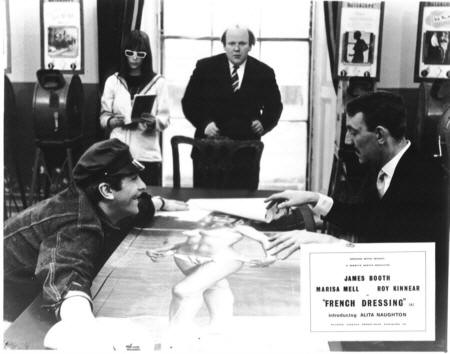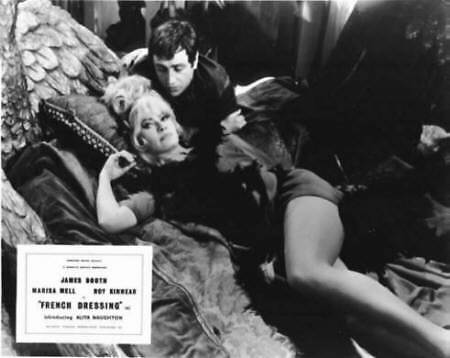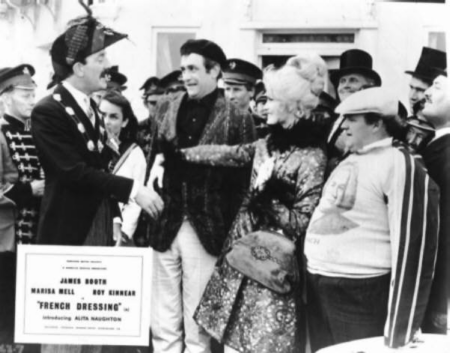 Herne Bay Press covers filming of French Dressing
Kine Weekly: French Dressing on cover
ABC Film Annual 1964: "Beside the Seaside"
ABC Film Annual 1964: "Expressively Yours James Booth"
Today, 5/23/64: "One Girl Makes 4 Dreams for Jimmy Booth"
Photoplay, January 1964: French Dressing still of JB on camel
http://www.frenchdressing-tribute.cjb.net. "The Unofficial Tribute To Ken Russell's French Dressing". Nick Sinclair celebrates this film for its images of Herne Bay as it was almost half a century ago. (Note: The site has been down for a long time but keeps promising to return.)