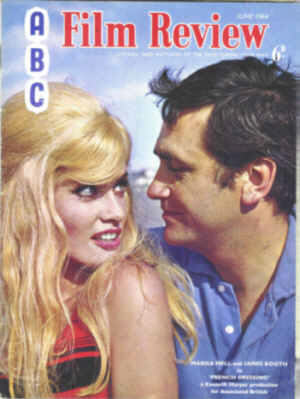 FRENCH DRESSING
"Having wonderful time" is the last message anyone is ever likely to have scribbled on a postcard from Gormleigh. It's a British holiday resort that hasn't moved with the times. Yet on its shore a "new wave" is to break with devastating results...
Business is very slack for deck chair attendant Jim (James Booth). He aspires to be Entertaiments Officer, a post held by his friend Henry (Roy Kinnear). Jim has a reporter girl friend called Judy (Alita Naughton), and one night he tells her that what Gormleigh needs to attract people is a film festival attended by Brigitte Bardot.
Judy reports this idea in her paper, giving Jim full credit for the suggestion. As a result, Jim is summoned to the Mayor's Parlour, where His Worship (Bryan Pringle) complains he's been inundated with enquiries as to when B.B. will visit Gormleigh. Jim says that if the Mayor will authorize a film festival, he will try to get an international star to grace it. Perhaps not B.B., but quite possibly F.F. This is Francoise Fayol, a French sex bomb of the "new wave" cinema, who is more famous for undressing than acting.
Jim and Henry go on a day trip to Le Touquet and manage to secure a promise of participation from Mlle. Fayol (played by Marisa Mell). Her eventual arrival in England is a typical Gormleigh fiasco that ends up with the Town Council and herself in the sea--fully dressed! This sets the pattern for the rest of her visit to Gormleigh, during which this sort of mishap constantly recurs.
Festival highlights are to be the premiere of her latest French film and her opening a nudist beach. Her film is given such a bad review by Judy that Francoise threatens to return home immediately and leave the gormless Gormleigh crowd to open their nudist beach without her. The fact that it finally does get opened is due to the quick-wittedness of Jim and Judy, although it happens under vastly different circumstances from those planned!
French Dressing makes quite a change for James Booth from his recent Zulu role. Gormleigh is a healthier spot to be in than Rorke's Drift! For 23-year-old Marisa Mell, who does a delicious Bardot take-off, it is her first British film--she has made nine on the Continent--and it is the first-ever film of Alita Naughton,. a 20-year-old model from New York.
It is interesting that the previous film from the writers of French Dressing was about a more ideal summer holiday. In fact, the film was Summer Holiday. They are Peter Myers and Ronnie Cass, who also wrote the scripts for two other Cliff Richard films--The Young Ones and the forthcoming Wonderful Life. French Dressing is equally ingenious and as full of inventive touches--and Cliff's friends The Shadows provide musical embellishments.
--Brian Swift