INTERVIEWS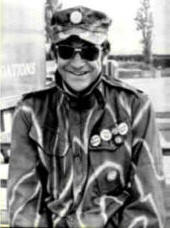 "One Girl Makes 4 Dreams for Jimmy Booth"
Ken Ferguson predicts James Booth will be a star
Some remarkable thoughts from General Booth's Grandson
Exclusive email interview with James Booth
Around the Studios with Ken Ferguson
The only real Irishman is a man with an English mother
Picture Show and TV Mirror, Cinema Cameo
The crooked finger of fame beckons
Fings look up for the crafty Cockney
James Booth's new beginning--when he put down a pint and picked up a pen
Why haven't I been on the box for three years? No one asked me.
James Booth: actor who turned rewrite man
Evening Standard, 9/24/65: There's Something Odd About Robin Hood
Hello Magazine, 9/2/91: Mike Nicholls interviews James Booth about Twin Peaks
She Magazine, 11/67: James Booth talks to Romany Bain, pp. 72-74
Zulu Special Collectors Edition Region 2 DVD Film scholar Sheldon Hall interviews James Booth and other key figures from the film. Booth talks about Stanley Baker, Cy Endfield, and Hook.