Too Rough to be a Star
Preview Film Album, Hollywood-London, 1963, ed. by Eric Warman, Golden Pleasure Books, London, 1962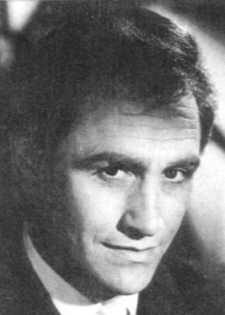 James Booth was once told by a casting director that he was too "rough looking" ever to become a star. Today he has a six-year film contract worth L100,000 and films already released include In the Doghouse and The Hellions.
James Booth is definitely a man to watch.
The son of a probation officer, James Booth used to be employed with an export and import firm selling mineral ore. He stuck it for about four years before he got bored. Then he won a scholarship to the R.A.D.A. His parents weren't too pleased. The idea of acting horrified them. He used to have to go to church three times on Sunday and three times during the week. But his mind was made up. He went to the R.A.D.A.
While he was at the R.A.D.A. he met two people who were to influence his life tremendously.
One was film executive Irving Allen who was eventually to put him under exclusive contract. The other was a young stage director named Paula, who gave him his first professional job. And eventually became his wife.
"I don't know what kind of a mess my life would be in today if it hadn't been for Paula and Irving," says Jimmy. "I'm a very insecure person. I've always needed someone to give me security. And they both did. However it wasn't love at first sight for Paula and me. Nothing like that. In fact, when we first met I don't think we gave each other a second look. She was the stage director at the New Lindsay Theatre in Notting Hill Gate--it's pulled down now.
"They wanted someone to play a gangster role so they got in touch with the R.A.D.A. and I was sent along. I was a cinch for a part like that!
"It took Paula and me three years to realise we were in love. With her I began to feel a very deep security I'd never found before.
"When we first got married Paula was earning far more than I was making. It was difficult, naturally. No man likes to feel his wife is supporting him and taking care of the home. But Paula had tremendous faith in me."
Despite his West End triumph in Fings Ain't Wot They Used T'be, Jimmy Booth is yet to have a film triumph. He has not yet carried a film on the strength of his own name.
"I have a theory about racehorses. If one is leading at the first furlong it usually loses the race. Well, I've got the same theory about myself. I like being a slow starter, because you can give it all you've got later on."