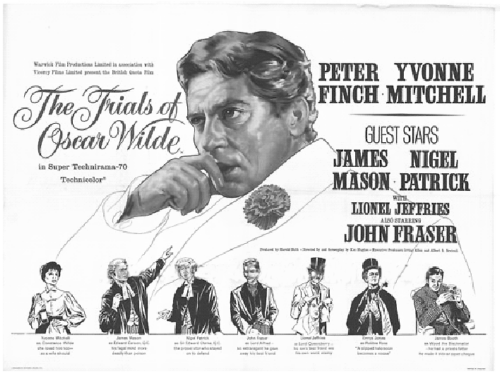 The Trials of Oscar Wilde (1960)
Also released under the title The Man With the Green Carnation, this well-regarded film stars Peter Finch as Oscar Wilde and deals with Wilde's prosecution for homosexuality. Booth plays a minor role as Alfred Wood, the impoverished former valet of Wilde's boyfriend. Wood tries to blackmail Wilde with a compromising letter. Instead, the immensely urbane and self-confident Wilde turns the whole thing into a joke at Wood's expense, then gives him some money anyway and asks him out.
"There's a fascinating charm to your halfhearted criminality," Wilde says, "You must lead an exciting life."
Wood replies, "There's good and bad in all of us, sir"--a quintessential James Booth character and moment!
Booth makes another brief appearance near the end of the film in a courtroom scene. Wood approaches the witness stand to deliver testimony about his gay date with Wilde, but the scene ends before Wood says anything.
Trials was filmed in color but American video copies are in black-and-white.
Text copyright Diana Blackwell, 2002