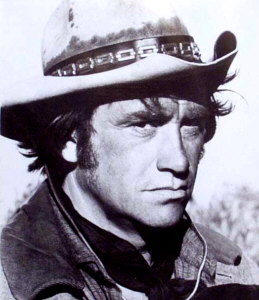 Macho Callahan (1970)
This strange, brutal western is set during the Civil War. David Janssen stars as the title character, a Union prisoner of war who escapes from a Confederate fort. Arriving in a dusty little town, he kills two men and kidnaps the widow of one, a beautiful blonde named Alexandra (Jean Seaberg). Callahan beats and rapes Alexandra, after which they fall in love and go on the lam together, along with Callahanís sidekick and a rescued black bear cub. (Iím not making this up.)
Alexandra has many allies and admirers among the townsmen, including the powerful local saloonkeeper Harry Wheeler (James Booth). He leads a large party of armed men in pursuit of the fugitives and ultimately offers Alexandra the chance to come back. But she refuses. Wheeler leaves in disbelief and disgust (amen to that!). Callahan tries to decamp while Alexandra's asleep. Heís immediately shot down, and the film ends with Alexandra weeping over his corpse.
From first to last, this film contains ugly images and an even uglier implied view of human nature. The rape scene is hot in a lurid, stylized way, but the subsequent love affair is totally preposterous. James Booth is just fine as the benevolent saloonkeeper with a crush. †

Text copyright Diana Blackwell, 2002.