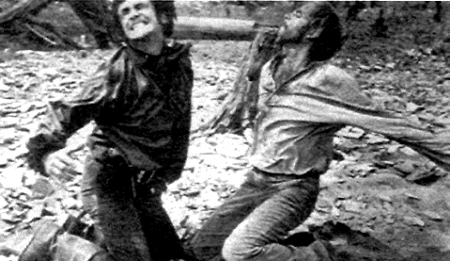 Adamís Woman (1972)

Also known as Return of the Boomerang, this out-of-print film remains available from private collectors. Its naive charm has earned it loyal fans, some of whom saw it once on television and publicly pined for it afterwards on www.IMDb.com.
The story begins in a prison in 19th Century Australia. Two of the inmates make a daring escape. One, a wrongly-convicted American named Adam (Beau Bridges), is recaptured. The other, a genuine baddie named Dyson (James Booth), gets away successfully.
Adam is offered an alternative to incarceration. Enlightened new penal policies allow inmates to marry each other and work off their sentences by homesteading on government land. Hoping to beat the system and escape, Adam weds Bess, an Irish hellcat with a shaved head. She works him like a mule but refuses to have sex with him because she is a rape survivor and still traumatized.
Meanwhile, Dyson has become an outlaw who lives by extorting "rent" from homesteaders in the area. When he calls on his newest "tenants" and discovers they are Adam and his bride, Dyson laughs out loud at them and invites Adam to join his gang. Adam refuses. "I've got a wife to bed down tonight," he lies. (She's his wife but there's no chance they'll be sleeping together that night...or any other.) "Fatten her up a bit and grow some hair on her and I might come back and lend you a hand," Dyson chuckles ominously.
Later, at the outlaws' main camp, Dyson again invites Adam to team up with him. Feeding Adam a hunk of stolen mutton, fondling Adam's hip and embracing him as they walk, Dyson tries to entice Adam with the prospect of a pleasant life full of easy money and implied sexual freedom. But Adam rejects Dyson's physical affection and his partnership offer, asking instead for Dysonís help in returning to America. Dyson agrees.
Then ensues a bucolic idyll in which Adam and Bess teach other, newer prisoner couples how to homestead. The quaint scenes of farm life are charming. Inevitably, Bess finally offers herself to Adam, only to learn that he is leaving for America. But Dyson has double-crossed Adam, setting him up for re-arrest. In Adam's absence, Dyson tries to rape Bess. Adam eludes capture and returns home in time to protect Bess and send Dyson back into the hills. The plot has many additional complications and reversals, but eventually Dyson is captured and executed and the film ends rather abruptly, with Adam and Bess living happily ever after.
Booth looks wonderful here--slim and handsome and becomingly attired in rakishly ragged clothes with nicely draped, open fronts that show off his hairy chest. The little neck scarf returns briefly (this time in beige!). For the attempted rape he wears a flowing brick-red poet shirt with slim brown pants and a black and silver belt (very cool).

Booth has another sex scene early in Adam's Woman. Dyson and Adam visit a brothel. Dyson throws a whore over his shoulder and carries her upstairs, where they later give a brief but convincing simulation of intercourse in bed under a sheet.

Text copyright Diana Blackwell, 2002.
Appendices
Letter from Steve Turner: "Adam's Woman - An Australian Viewpoint"
Review of Adams Woman in Monthly Film Bulletin
Movie News, 3/70 article about Adam's Woman: "Bi-Centennary World Premier for new Australian Film"
http://llwyd.tripod.com/unwilling/adam.htm
Pictures of "Bess" (Jane Merrow) with shaved head