From Plays and Players, 4/58

CELESTINA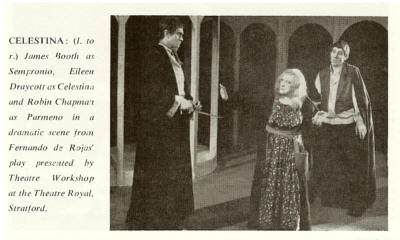 By Fernando de Rojas, translated by James Mabbe. First performance of this revival at the Theatre Royal, Stratford, E.15, on February 21, 1958.
Produced by Joan Littlewood with a setting by John Bury and costumes by Una Collins. Music selected and arranged by Michael Ivan.

Celestina, EILEEN DRAYCOTT; Melibea, OLIVE McFARLAND; Calisto, MURRAY MELVIN; Sempronio, JAMES BOOTH; Parmeno, ROBIN CHAPMAN; Elicia, MARGHERITA STONE; Areusa, ANNA KORWIN; Lucrezia, YOOTHA IOYCE; Alisa, JOAN LITTLEWOOD; Watchman, BILL GROVER; Singer, ANDREAS MARKOS.

TO celebrate the wedding five year ago of dashing Mr. Theatre Workshop and forgotten Miss Theatre Royal, Stratford, Joan Littlewood has dug up the foundation stone of the Spanish Theatre which she is boldly exhibiting in the East End by way of an anniversary offering. Celestina must be the best thing Theatre Workshop have done to date and I can only hope that they will take this production with them to the Paris International Festival where theatregoers less parochial in outlook will be more likely to appreciate its great merits.

Celestina, first written as a novel in dialogue form extending to no less than 16 acts, was originally named after the lovers Calisto and Melibea. They were early Spanish editions of Romeo and Juliet, whose encounters in this production culminate in a balcony scene involving more rape than rapture. Alone, however, they would hardly hold our attention were it not for their go-between, Celestina, a character of such dimensions that she makes Shakespeare's Nurse seem quite anaemic in comparison.

She might better be described as a female Falstaff who swept, or rather tottered, into Western Literature a century before Shakespeare penned Sir John. Thanks to her this play is unique in embracing at one and the same time something of the variety of mood of The Canterbury Tales, the bawdy gusto of the Decameron, together with a strange combination of Elizabethan luxuriance of language and Restoration cynicism. Celestina is indeed a character of such richness and universality she ought to be revived quite as frequently as Hamlet.

Eileen Draycott went far in exploring the old sinner's wily intelligence and sensuous joie de vivre though I can still conceive of fruitier interpretations. As the Spanish Juliet Olive McFarland made a striking impression, but her Calisto was a little lacking in authority and stylistic refinement. The quartet of low characters (two prostitutes, two servants) were nicely rendered though James Booth's conception of Sempronio as a twentieth-century barrow boy, whilst most striking, struck an anachronistic note..

Mabbe's translation captures most of the racy verve of the original but I regret that in this version the lovers do not also come to their tragic end. Still, half a loaf is better than no loaf at all. Miss Littlewood is to be congratulated not only for her haunting tragi-comedy performance as Melibea's ageing mother, but also for her stylised production as a whole, which falls satisfactorily enough between the two stools of Restoration and Shakespearean. John Bury was very wise not to attempt a realistic setting to which perhaps only Breugel could have done justice. His trio of balconies harmonises well with the production.

Having started at the root of the Spanish theatre it will be interesting to see if Theatre Workshop will go on to make some of its finest blooms, such as Calderon and Lope de Vega, something more than mere names in a theatre textbook. Peter Roberts