Press Release, Fings Ain't Wot They Used T'Be, 8/18/06
1 of 2
PRESS CONTACTS:
Jeff Hooker
Telephone: 020 7615 4762
Email: Jeff@rainbow2000.org.uk
or Bradley Green
Telephone: Email:Brad@rainbow2000.org.uk
FOR IMMEDIATE RELEASE
18 August 2006
A Tribute to the late James Booth
"Fings Ain't Wot They Used T'Be"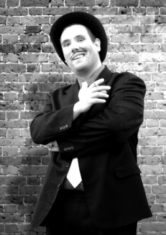 Scott Roche in James Booth's role as Tosher
Rainbow 2000, the award-winning Benfleet drama group, is reviving the Lionel Bart
musical, Fings Ain't Wot They Used T'Be, at the Brentwood Theatre from 27th-30th September 2006.
The show will be dedicated to the memory of James Booth, the Essex based actor who brought the role of Tosher to life in 1959. Booth was probably best known for the role of Private Hook in "Zulu" made in 1964, although his last movie was "Keeping Mum", playing Mr Brown alongside Maggie Smith and Patrick Swayze in 2005.
Fings Ain't Wot They Used T'Be is a much loved but seldom seen show that Rainbow 2000 have dusted off and brought back to life ready for the performances at Brentwood Theatre next month.
James Booth's untimely death inspired Jim Cater, director of Rainbow 2000, to choose "Fings" as his show for 2006. The group has performed "Fings" in the past to great acclaim but this production promises to achieve new heights both in acting and musical interpretation.
The show's hero, Fred Cochran, a down-at-heel gangster will be played by the experienced and multi-talented Lee Jackson, with Sarah Cater providing loyal support as Lil, Fred's long standing and long suffering moll.
"The parts I have undertaken over the years stretch from Shakespeare to the Cowardly Lion in the Wizard of Oz", explains Lee "but this is the first time I have experienced tense drama mixing so brilliantly with hilarious comic lines and wonderful songs".
Scott Roche is playing Tosher in this production and though he admits it will be difficult to emulate the part taken by James Booth, he is confident that his interpretation will keep the audience in stitches.
ENDS
2 of 2
PRESS CONTACT: ***************************
Telephone: 0207 615 4726
Email: Jeff@rainbow2000.org.uk
NOTES FOR EDITORS
Please contact Heather Cater on 01268 754982 for press tickets.
Drama Group: Rainbow2000
Show: "Fings Ain't Wot They Used T'Be"
Dates: 27 – 29 September 2006 at 8pm
30 September 2006 at 3pm and 8pm
Tickets: £8 to £11 (concessions available)
Theatre: Brentwood Theatre
15 Shenfield Road
Brentwood
Essex
CM15 8AG
Play: Frank Norman
Music and Lyrics: Lionel Bart
Bookings: 01268 754982
or 01277 200305