Obituary from The Stage
<![if !vml]>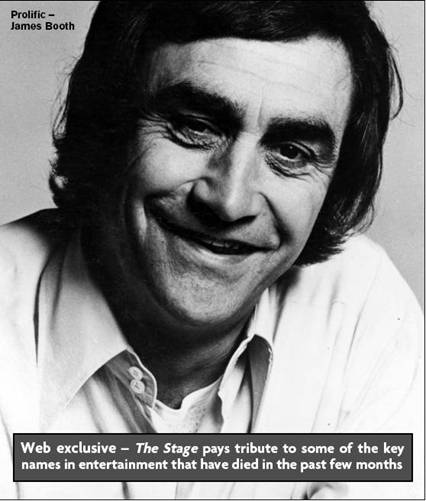 <![endif]>
One of Britain's leading character actors, James Booth, best known for his portrayal of the reluctant hero
Private Henry Hook in the film Zulu (1964), has died at the age of 77. He shot to fame in the late fifties as a
member of Joan Littlewoood's Theatre Workshop when he appeared as Tosher in Fings Ain't Wot They Used T'Be (1959)
and he was also a valued member of the Royal Shakespeare Company.
Born David Geeves-Booth in Croydon, Surrey, on December 19, 1927, he began acting in amateur plays as a teenager.
He served briefly in the army before winning a scholarship to RADA, where his fellow students included Peter O'Toole and Albert Finney.
He played walk-on parts at the Old Vic before joining Littlewoood's company at the Theatre Royal, Stratford East and made his film
debut as the gangster Spider Kelly in Jazzboat (1959). He took the role of Alfred Taylor in the award-winning film of The Trials of
Oscar Wilde (1960), with Peter Finch and he had a leading role in Littlewood's film of Sparrers Can't Sing (1963) with Barbara Windsor.
In 1962 he joined the RSC, in which he played Edmund in King Lear. Other notable stage credits include Harrison in Nil Carborandum
(1962), Robin Hood in Twang (1965) and The Alchemist (1970). He rejoined the RSC for Measure for Measure and Afore Night Come in 1975
and on Broadway he played James Joyce in the company's production of Travesties by Tom Stoppard.
Booth's many other films included That'll Be the Day (1973), in which he played David Essex's father, Brannigan (1975), with John Wayne
and Richard Attenborough, and The Jazz Singer (1980), with Neil Diamond and Laurence Olivier. On television he made guest appearances
in TV shows such as Minder and Bergerac and he also played the convict Ernie Niles in the cult series Twin Peaks (1990).
He numbered among his recreations underwater fishing and he described his favourite roles as "those I can relax in".
Booth married Paula Delaney in 1960. They had two sons and two daughters. He died on August 11.
--Patrick Newley
[Article courtesy of Graham Aveling, head of marketing at The Stage.]