MISCELLANEOUS
Letter from Diana Blackwell (your webmistress): London and Sheldon Hall
June 8, 2005
Dear Readers,
I've just returned from my first visit to the beautiful city of London. While there I had the great good fortune to meet with Sheldon Hall, lecturer in film studies at Sheffield Hallam University and author of the forthcoming book Zulu: With Some Guts Behind It-- The Making of the Epic Movie. Not only is Sheldon the top authority on Zulu, he's a big fan of Hookie and has met James Booth more than once and interviewed him at length. It was a thrill to meet Sheldon, and I would have been honored merely to shake his hand—so it was a wonderful surprise when he gave me a huge hug right off the bat, proving that he's as warm and nice as he is knowledgeable.
Sheldon took me on a whirlwind walking tour of Zulu-related sites near Piccadilly Circus. We saw the former site of the Plaza Theatre, where Zulu had its first premier. That location is now occupied by a Tesco supermarket, beside the new Apollo mini-multiplex.
We race-walked through Planet Hollywood, searching for the red coat and rifle with bayonet that Michael Caine used as Bromhead. Sheldon knew this costume was on display at one time. Unfortunately, that display was nowhere to be found.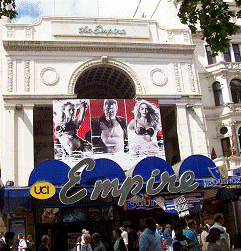 We also saw the Empire 2 Theatre (formerly the Ritz), where Zulu had its second run in the West End.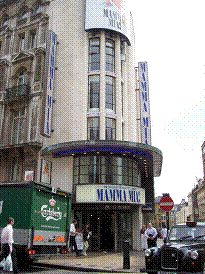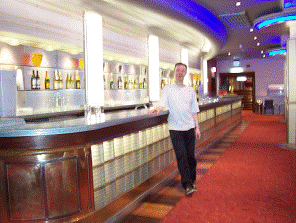 (That's Sheldon Hall by the long bar.)
And we went inside the Prince of Wales Theatre, whose basement housed the bar room where the auditions for Zulu were held. A couple of workers in the lobby said we could go check it out so we went downstairs. The auditions had taken place in a big room with a long bar down one wall. The length of the bar was very important to the casting of Michael Caine in Zulu, according to What's it All About, because walking the length of it took Caine some time, which gave Endfield the chance to change his mind and offer Caine the role of Bromhead.
We thought we might order a drink but we got thrown out by an angry security guard. So we went to a pub instead and Sheldon shared some invaluable written resources, and a fascinating insider's-view of his researches. He thinks the book will be out in July. He also has an idea for another Zulu-related book, if certain legalistic difficulties can be worked out.
Our final destination was the National Army Museum (near the Royal Court Theatre, where James Booth appeared in Box and Cox and The Fire Raisers). The Museum has a nice Zulu War display (and, unfortunately, a strict no-photos policy). In the middle of the floor there's a life-sized mannequin of a menacing Zulu warrior in full regalia, holding a shield and assegai, his legs bent in a slight crouch. A few feet away, against the wall, there's also a life-sized mannequin of a soldier at Isandhlwana, rifle in hand, with an ammo box and a broken knobkerrie at his feet. Behind glass in a wall-case there's a small diorama of Rorke's Drift, minus the hospital, with tiny redcoats and Zulus. Sheldon looked at the tag and pointed out that it falsely claims there were 25 British casualties at Rorke's Drift, when in truth there were 17. Out in the hall is a huge painting of Ulundi.
The afternoon had flown by and Sheldon and I had to part. I thanked Sheldon for everything and we said our goodbyes in the tube station, agreeing that we should meet again, next time in California.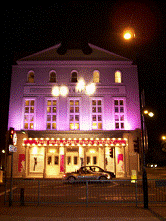 The Old Vic at night
Other relevant sites that I visited were the Comedy Theater, where Booth starred in A Thousand Clowns, and the Old Vic, where he played small roles in nine Shakespearean plays. (I also saw Henry IV Part I at the Olivier Theatre. Booth has said in one of his interviews that he finds the National Theatre's productions "pretty poxy" but this one was great.)
Madame Tussaud's wax museum has a life-like figure of Barbara Windsor (Booth's sometime girlfriend and costar from Sparrows Can't Sing, Fings Ain't Wot They Used T'Be, and Twang!!) and a rather waxy effigy of Michael Caine. But there's no James Booth. [Note to Madame Tussaud's: How about giving us a figure of Hookie in his shirtsleeves, either leaning against the bed or hauling Maxfield up from the floor? Pretty please?]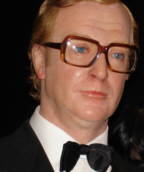 The Museum of London has red military tunics you can try on. This one fit like a glove.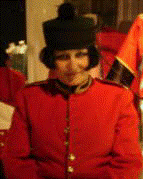 No short visit can do justice to all that London has to offer. Despite nearly constant sightseeing, my husband and I inevitably missed many things, and we never ventured outside of London or got anywhere near Brecon, though an AZW Weekend was concurrent with our stay. (This leaves a lot to look forward to for a second visit someday.) Everything is very expensive even by Bay Area standards, but the experience is worth it. If you've never been to London, go! It's awesome.
Sincerely,
Diana