Review of The Fire Raisers excerpted from Theatre Arts 5/62, pp. 25-6
The Latest Plays: London's Season by Alan Brien (excerpt)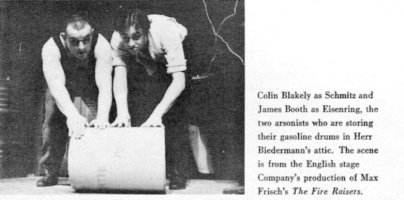 ...Now that Osborne's Luther (nine months) is off, there is hardly a West End theatre which can be recommended as attempting to spread the drama into new fields and enlist new people on the stage. In the last quarter, the Royal Court staged Max Frisch's The Fire Raisers. This beyond-the-West-End production received enthusiastic notices and played to good houses for the short run, which is all the Court's repertory policy permits. But no commercial impressario was willing to risk importing it to the center of town. So Frisch's hot-foot to the affluent society was seen only by smart, literary audiences already converted to distrust of bourgeois morals. Those whose corns should have been scorched in the explosion were able to dodge the experience by dismissing the play as an esoteric intellectuals' gag.
The Fire Raisers did not entirely satisfy me as a piece of commited satire. Max Frisch, like Frederich Dürrenmatt, is Swiss to the bone marrow. Both incline to the standpoint of the small business man caught on barbed wire in the cross fire of a class war, of a small neutral nation changing checks at a profit while a continent blazes. They criticize the choices facing Western man from a position on the fence between two ideologies.
But, theatrically, Frisch's play is much more compelling than either The Visit or Romulus. A petty capitalist in a town terrorized by arsonists gives shelter to two bullying outcasts. Though they fill his attic with gasoline cans and rolls of fuse, though they humiliate his wife and make passes at his maid, he insists on interpreting their threats as schoolboy jokes and chummy hoaxes. While the firemen outside cry "woe, woe" in chorus, the sirens yodel and the sky flares red, he hands them the matches in a last gesture of appeasement--and the whole neighborhood roars into flame.
The direction by Lindsay Anderson ensured that the ensemble playing was superbly orchestrated. The suburban hero, Biedermann (in German--the respectable man), was played by television and music hall comedian, Alfred Marks, as a parody of Prime Minister Macmillan. His two boarders were clever young actors--Colin Blakely, a muscular hairy ape and James Booth, a sinister demon king. The audiences and critics left the theatre disturbed and argumentative. Had director Anderson over-stressed the motif of the H-bomb? Did Frisch mean the demolition experts under our roof to be proto-Nazis or crypto-Communists? But, at least, they came out talking. Elsewhere, in the commercial theatre, they were like people who had just bolted a Chinese dinner; momentarily they were overfull: in an hour they would be hungry again....